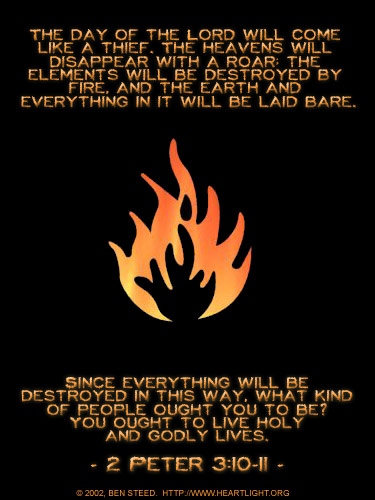 Many on the pulpits of Christendom preach of the Christ's return, but few, if any, exhort their held-captive pew-sitters to be seeking and watching for His return in great power and glory.
There are many events occurring, as I write, which are the beginnings of the fulfillment of the Lord's prophecy. The most important of these beginnings happened in 1948 when Israel became a nation again.
The following Pew Forum article reveals the workings of Godly prophecy in Israel, at this very moment:
December 8, 2009

Israel official: religious law must become binding

by
The Associated Press

JERUSALEM AP — Israel's justice minister said religious law must become binding in Israel, causing a stir Tuesday that reflects the divide between the secular and religious communities in the Jewish state.

Yaakov Neeman, an observant Jew, told a rabbinical conference on Monday that the Bible contains "a complete solution to all the things we are dealing with."

"Step by step we will bestow religious law upon the citizens of Israel and transform religious law into the binding law of the state," he said. Israeli newspapers said the rabbis attending the conference applauded him wildly, but some lawmakers on Tuesday attacked his remarks as anti-democratic.

Secular Jews, who make up about 80 percent of the Jewish population, are often wary of what they consider to be religious coercion by the Orthodox minority. (emphasis added)

via Religion News: Israel official: religious law must become binding.
It would seem that the remnant of Israel is starting to turn their hearts back to the Lord, so that He may come again and establish them to their rightful thrown on earth:
'For I know the plans that I have for you,' declares the LORD, 'plans for welfare and not for calamity to give you a future and a hope. 12 'Then you will call upon Me and come and pray to Me, and I will listen to you. 13 'You will seek Me and find Me when you search for Me with all your heart. 14 'I will be found by you,' declares the LORD, 'and I will restore your fortunes and will gather you from all the nations and from all the places where I have driven you,' declares the LORD, 'and I will bring you back to the place from where I sent you into exile.' (Jeremiah 29)

Then the LORD will be zealous for His land (Israel)
And will have pity on His people.
19 The LORD will answer and say to His people,
"Behold, I am going to send you grain, new wine and oil,
And you will be satisfied in full with them;
And I will never again make you a reproach among the nations.
20 "But I will remove the northern army far from you,
And I will drive it into a parched and desolate land,
And its vanguard into the eastern sea,
And its rear guard into the western sea.
And its stench will arise and its foul smell will come up,
For it has done great things."
21 Do not fear, O land, rejoice and be glad,
For the LORD has done great things.
22 Do not fear, beasts of the field,
For the pastures of the wilderness have turned green,
For the tree has borne its fruit,
The fig tree and the vine have yielded in full.
23 So rejoice, O sons of Zion,
And be glad in the LORD your God;
For He has given you the early rain for your vindication.
And He has poured down for you the rain,
The early and latter rain as before.
24 The threshing floors will be full of grain,
And the vats will overflow with the new wine and oil.
25 "Then I will make up to you for the years
That the swarming locust has eaten,
The creeping locust, the stripping locust and the gnawing locust,
My great army which I sent among you.
26 "You will have plenty to eat and be satisfied
And praise the name of the LORD your God,
Who has dealt wondrously with you;
Then My people will never be put to shame.
27 "Thus you will know that I am in the midst of Israel,
And that I am the LORD your God,
And there is no other;
And My people will never be put to shame.

28 "It will come about after this
That I will pour out My Spirit on all mankind;
And your sons and daughters will prophesy,
Your old men will dream dreams,
Your young men will see visions.
29 "Even on the male and female servants
I will pour out My Spirit in those days. (Joel 2)